For Developers
MageCloud is a PaaS platform built by Magento developers for Magento developers that helps you setup new Magento stores with themes and extensions on a dedicated server within just 3 minutes. This used to be an internal tool, used specifically within our company, but we decided to make it available to the public, once we found out that Magento Go will go out of business.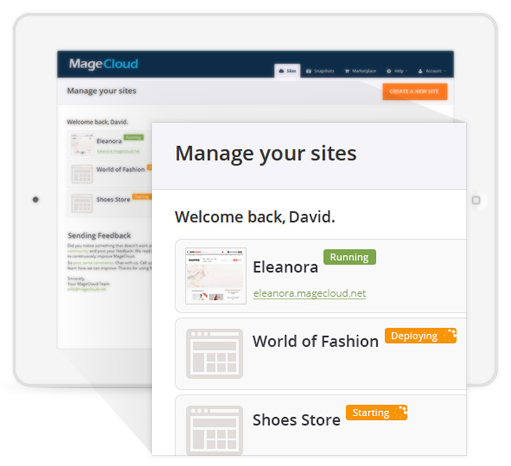 If you're working with a merchant, you can build them a Magento-based store for free, using our services. Later on you can charge them extra fees for custom development and modifications. Since the initial setup is very basic, we can simplify your Magento development process and increase productivity of your team up to 5 times. This allows you to support more clients and grow revenue. We can also help you acquire new clients through MageCloud, using our partner program or by simply referring potential clients to your site.
Watch Video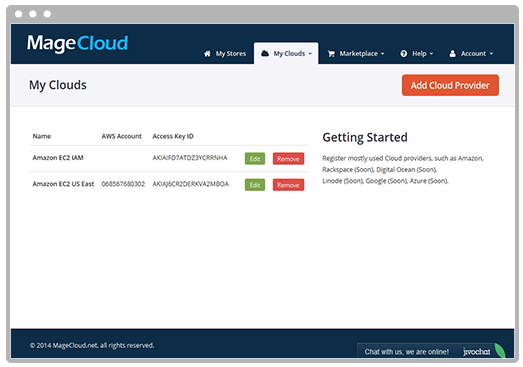 MageCloud for live and staging servers
MageCloud is integrated with the best cloud providers that are optimized for better Magento performance. We are NOT a SaaS platform – you will have ROOT access to your own dedicated server via SSH/SFTP + access to the database and Magento administration. With MageCloud Magento installation takes a few minutes – all server configurations and Magento installation are done automatically. You can easily setup a showcase demo for your clients during your first meeting, use MageCloud as your development environment and then move the ready-to-go store elsewhere or keep managing your client's server with MageCloud. You can connect an unlimited number of hosting platforms into a single MageCloud account and manage them from one panel.
Read more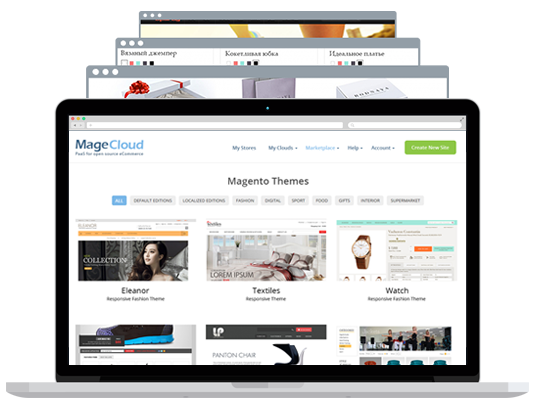 MageCloud for Magento themes
MageCloud provides you with a list of 100s of free Magento themes that you may use for as many stores as you'd like. Themes for fashion, sports, industry and many other categories are at your disposal. Note that all of our themes are responsive – they will look stunning on any device and screen resolution. You can always choose a default Magento theme for your store or install your own custom theme. Business and Enterprise partners have the option of listing their own themes in our marketplace. As a Business or Enterprise MageCloud partner you can make your themes available for free or you have the option of setting up a per-installation fee. You will be notified when someone uses your theme and your contact information will be provided to the merchant, in case if they would like to receive any additional support from you.
Read more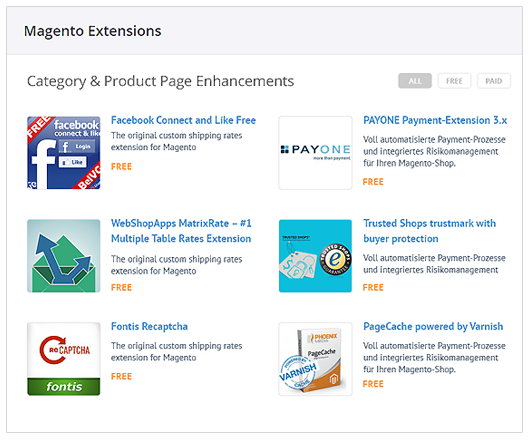 MageCloud for Magento extensions
MageCloud took the best principles of MagentoConnect and combined them with principles of the Apple store. We list tons of different Magento extensions. Many of these extensions are available for our 1-click-install feature. Some of these extensions link back to our partners' websites for direct purchase and download. If you need any support with any of the extensions – you can always request assistance directly from the extension vendor. You can install 3rd party extensions to your Magento store even if that extension is not listed in our marketplace, because we grant full access to the server and the database, which is required for a custom extension installation. Business and Enterprise partners have the option of adding extensions to our marketplace. However, we reserve the right not to publish extensions that don't follow Magento coding standards. We also monitor reviews and hide extensions, which attain ratings below 4.0. This also happens when a provider becomes unreliable and/or violates our extension support policy.
Read more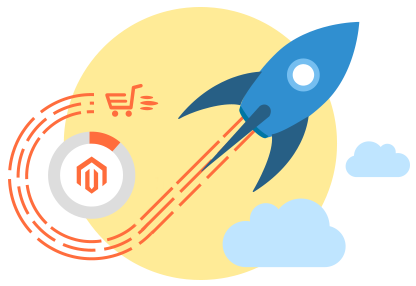 MageCloud for your business
MageCloud is more than just a technical platform. We are deeply invested in the effort of turning businesses into our Business and Enterprise partners. Whenever merchants need custom development support – we notify our partners and let them send proposals and quotes back to the merchants. MageCloud can also be used as a lead generation platform – every Business and Enterprise partner receives a widget that can be embedded into any page – all merchant accounts that register using the widget will be associated with that particular partner, which will receive the merchant's contact info. The partners can then contact these merchants directly and offer them additional services.