Magento Themes
MageCloud offers Magento themes that you can freely install, as a MageCloud user, to develop Magento stores. We supply 100+ FREE Magento themes that all feature responsive web design. These themes cover various business niches: fashion stores, jewelry stores, electronic stores, food stores and more.


Samples and preview
Before your choose your theme – you may preview it using our live demo feature. If you change your mind – you can always switch the installed theme. But we strongly recommend not to do theme upgrades directly on the live version of your store without proper testing. A staging server is recommended for this purpose.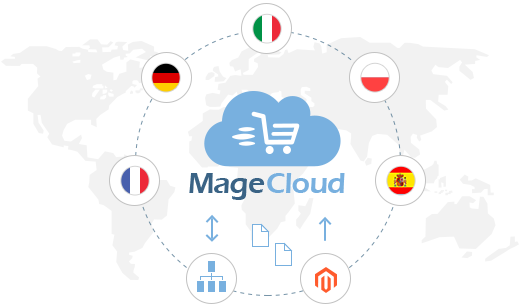 Localizations
We support merchants from all around the world. Merchants from a selected number of countries can choose a pre-configured Magento edition that is customized for your local market with pre-installed Magento language package, currency settings, payment gateways, etc. These are available for you at no charge. Currently we support the following localizations: French, German, Italian, Spanish, Polish and a couple of others.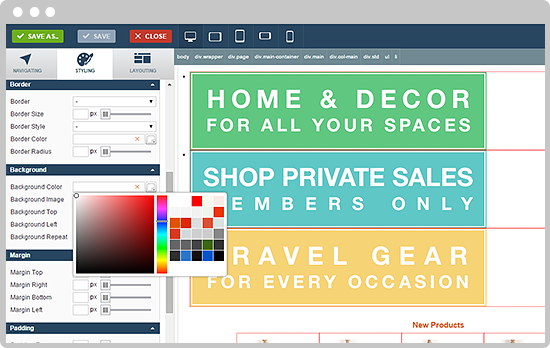 Theme Editor
Our exclusive theme editor offers you the opportunity to customize and update the original Magento themes available in our marketplace. You don't need any design or coding skills to make the necessary changes.
The editor is pretty easy to operate and it can help you make any standard theme look like a custom design, done specifically for your website and brand.
It allows you to alter the standard styles and layouts offered by Magento. You can also test all of your changes in various screen formats to make sure that the changes will look good on any screen with any resolution.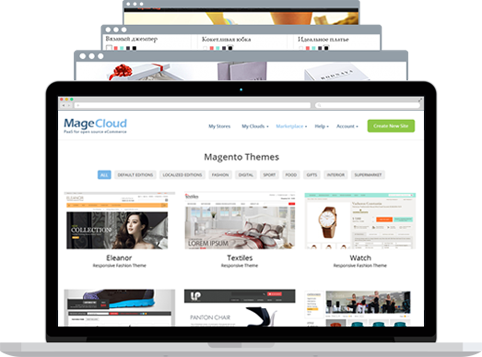 List your theme at MageCloud
Professional and Enterprise partners can feature their own themes in our marketplace. As a MageCloud Professional or Enterprise partner you have the option of offering your themes for free, or setting up a fee for people, using your themes. You will be notified when someone used your theme and your contact information will be forwarded to the merchant, who installed your theme.
Note that our partners are expected to provide lifetime support and updates for the themes, which they showcase in our marketplace. Themes must be created according to the Magento best practices.
MageCloud keeps the right to remove any themes from the marketplace in case if the partner, that provided it, violates our terms. We also hide the themes, which receive cummulative rating below 4.0 out of 5.0. For paid themes, MageCloud charges an affiliate % fee for each transaction/ install.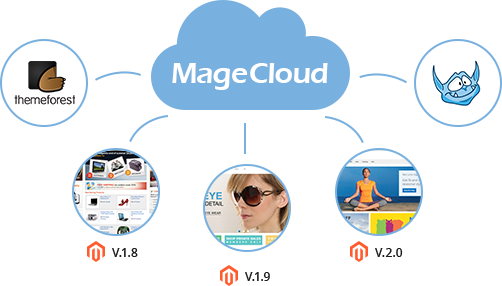 Custom or 3rd party themes
MageCloud lets you install any custom theme to your Magento store. You can also pick a theme available at any other 3rd party provider, like Themeforest or TemplateMonster. If you need any help installing files from Templatemoster, Themeforest or other providers, please contact our support team.
Default themes
You can also install a default Magento theme for your store.