Migration to Magento
How it works
MageCloud provides amazing opportunities for merchants that already have a running store on any other eCommerce platform, but want to migrate to Magento. To get started you follow exactly the same steps, which are performed by users that are setting up a new store – when your Magento installation is complete, MageCloud will take care of your product data transfer. With our partners we are able to migrate product information, categories, customers, orders and other data sets from your shopping cart.
Why you should migrate
There are many different platforms that can help you start an eCommerce business. Most of these platforms operate based on the quite popular SaaS model. They provide you with infrastructure, themes and hosting. While its very easy to setup your store, using a SaaS solution, this model has some limitations.
When you decide to scale your retail business and overhaul your business logic or run some extra functionality – SaaS limitations become a problem. You are unable to integrate required code, your SaaS provider's support is not able to fully assist you. The only solution is to get a self-hosted eCommerce store.
MageCloud helps you solve this problem once and for all.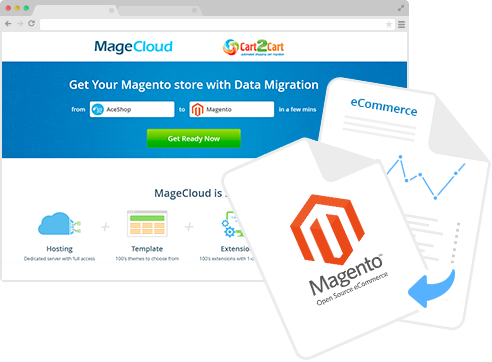 MageCloud benefits
MageCloud is fueled by Magento CE - one of the biggest and most popular eCommerce platforms. It's a very good choice for a new store, as well as for a business with over 50000 SKUs.
We simplified the development process, so that non-technical customers could create their store using pre-packaged components – very similar to a SaaS platform, but ,unlike SaaS solutions, we provide 100% open back-end, which is ready for any customizations.
Compare tools
| | Hosted Solution (SaaS) eCommerce Software | Open Source (self hosted) eCommerce Software |
| --- | --- | --- |
| Setup Cost | Low setup costs (or moderate setup costs for a custom design) | High or very high setup costs (code customization, template integration, testing, implementation) |
| Skills | Can be implemented and maintained by anyone with decent computer skills | High learning curve for most users. Easily implemented and maintained by a specialized developer |
| Hosting | Hosting is included in costs, upgrades and rollbacks are smooth | Hosting fees are charged separately, upgrading or rolling back the server capacity is complicated |
| Features | Limited flexibility, but many useful features are included, without any payments for extensions or custom coding | Great customization flexibility with the help of extensions and custom coding. However this increases the expenditures. |
| Support | Full support from software developers included – all in one place | No support from software developers – support must be contracted privately |
| Upgrades | Upgrades, bug fixes and new features pushed out to all stores automatically, with no work for the store owner | Any code customizations have to be manually integrated and aligned with future versions and bug fixes released by software developers |
| 3rd Party Software Integration | Only with pre-approved partners since no access to root files is provided | Root files are accessible and any 3rd party software can be integrated |
Migration from other eCommerce platforms
MageCloud provides an effective way to migrate your store to Magento from various SaaS platforms, like Shopify, Bigcommerce, 3dCart and others.
Choose your original platform and relocate your store to Magento. You can preview your new store using a demo URL and configure any required options. With the help of our partners we perform the data migration – without any downtime for your store we migrate your products, product images, product attributes, product categories, customer data, orders and many other data sets from your shopping cart.