Magento Hosting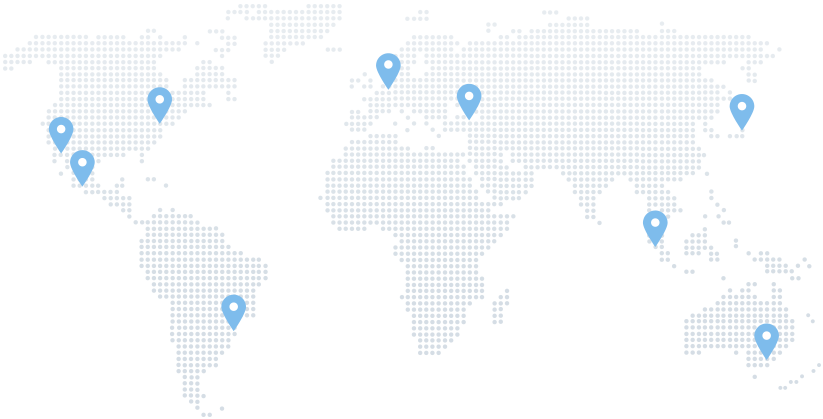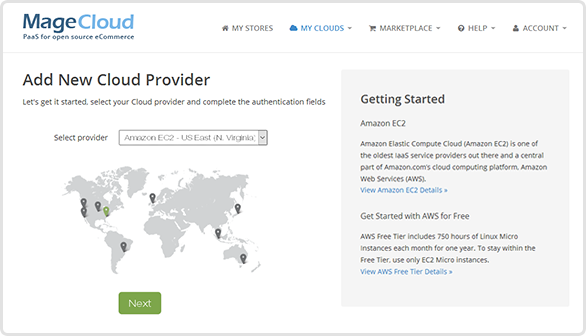 How it works
MageCloud lets you connect your store to a variety of supported hosting providers using secure credentials via API, supplied by those providers. Once connected you will be able to launch servers directly from MageCloud – these servers will also appear within your provider's dashboard. You get full access to servers launched by MageCloud. Based on your needs, you can choose server settings with different parameters for CPU, RAM and GB. You may disconnect your hosting provider from MageCloud account at any time.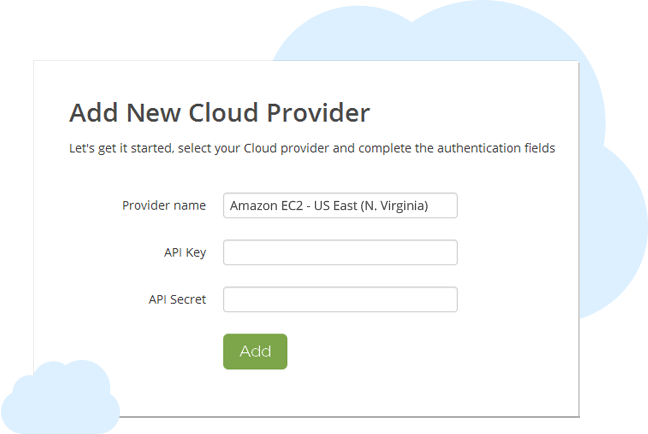 Cloud hosting providers
MageCloud is integrated with some of the biggest hosting providers.

These providers have proven that they offer stable performance with data centers all over the world. Depending on your requirements, these providers can offer you various types of additional services to ensure the highest level of server performance for your online store. Including, but not limited to auto-scaling, content delivery networks, which can greatly increase your site's stress resistance during peak hours and sudden spikes of traffic. We're also working on integrating other hosting platforms with time.
You can connect all of the available hosting platforms under one single MageCloud account and manage them from one panel. If you are a MageCloud development partner, you can connect merchants that you work with to the hosting, available at your MageCloud account.

Pricing and fees
Launching your server instance with MageCloud is 100% FREE. All billing goes directly to your hosting provider, so please make sure that you have properly configured your hosting account to avoid any interruptions. If you decide to go with pre-configured MageCloud servers – then we'll charge you a monthly hosting fee, using credit card details that you provide. But this is also 100% optional.

100% cloud based
Cloud servers are known for holding the best cost/ stability ratio. They do not suffer from the usual server hardware problems and they possess all of the cloud computing benefits, i.e. they are stable, fast and secure. On the other hand, cloud servers are economically more efficient than the standard dedicated servers. For a similar price, with cloud tech you receive more resources, which will greatly improve the performance of your server.

Pre-configured MageCloud servers
If you don't have a hosting account with providers that are supported by MageCloud – you have the option of choosing one of our pre-configured servers. The hosting fee will be charged on monthly basis. If you would like to use that option, please contact our team.

Preview your site
You may preview your site using MageCloud's staging URL. This allows you to test all of the features way in advance and prepare your store for the official launch. As a developer, you may easily create a demo for your clients during your first meeting, by using MageCloud as your development environment. You can then move the ready-to-go store elsewhere. Or you can keep managing your client's server with MageCloud.

Migration from another Magento hosting
We are sorry if your existing hosting provider is not yet supported – the best way to get started in this case is to email your hosting provider and ask them for their API. This will enable us to connect your provider directly to our service. A lot of hosting providers don't have an API in place. This makes integration almost impossible. In that case we recommend you to move your store to a supported provider – feel free to submit your request to our team to find out more about this option.

Server access
You create the access password during the initial setup process within your MageCloud dashboard. MageCloud needs access to your server to install Magento, themes and extensions. Once the store has been launched – we provide you with full access to your server and the store via FTP/SSH. You also acquire access to the database and your Magento admin panel. We recommend you to set up a separate live server and a staging server for any testing purposes.

Free hosting offers
Some of the providers that we feature offer free hosting for their clients.
Learn more about Amazon AWS free 1-year hosting offer.
Check out Softlayer's 1-month free hosting promo.
You can also ask MageCloud to do an introduction for you – use the live chat option or send us a message via the contact form.

Custom domain
Once your store is ready, it takes only a few minutes to connect it to the domain that you own. It may take some time before the DNS is updated and your domain will point to the new server.