Blog
3 Mistakes to Avoid When Submitting Extensions to Magento Connect

There are thousands of extension at Magento Connect. Your job is to create a practical product that's easy to implement, use and update. It's doesn't matter, if you are rookie developer, submitting your first extension to the marketplace, or a seasoned extensions provider that has been in the business for years. If you're not making it easy to adopt and use your product - none of your skills and enthusiastic ideas will matter.
Your Magento Connect listing is your 'first impression', as many people go straight to the marketplace to look for the right extension for their store. Your presentation and the information that you provide on your extension's Magento Connect page is important for business. Think of it as a landing page that tries to convert people.
And don't think that if you have a unique solution - you don't have to worry about anything. Even the best ideas, if explained and presented improperly, may never really take off. Especially, if you're providing a new extension that has never been introduced before - your job is to make it clear, why the extension is so great and why people should install it.
In this post we're sharing some tips and tricks, which might help you make your extension more appealing and bring in more installs for your product. We'll offer some examples of good and bad Magento Connect product pages. Please note, that these examples do not actually represent the quality of the displayed products. They merely reflect the quality of the product page and its presentation.
Mistake 1: Bad Description (Overview)

Short, but uninformative

Confusing structure

Low quality English, which defeats the purpose of the text

Bad/nonexistent formatting
Here's an example of a description like that.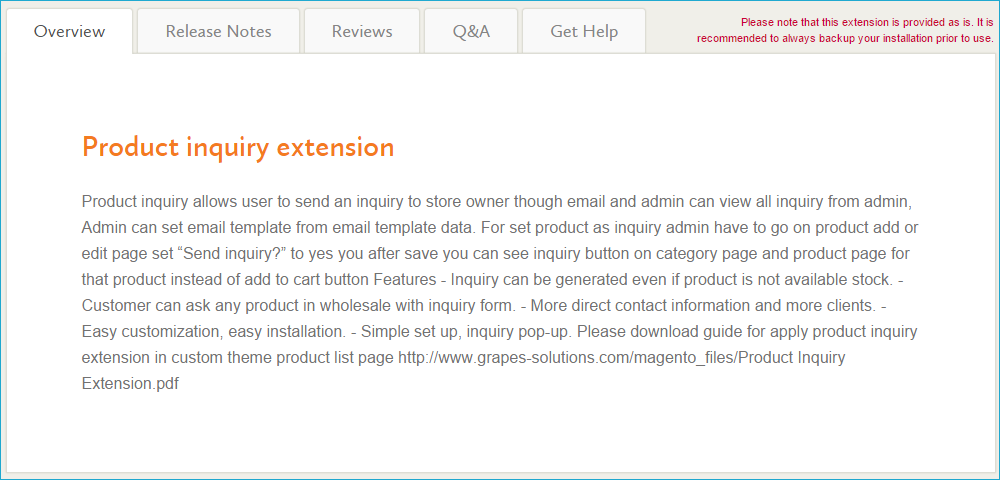 Here's what you could do to fix this:

Hire a freelance native English speaking editor to fix your text - make it more readable, make it more structured

Work on your formatting to avoid any confusing punctuation and sentences

Elaborate on your product and its functions, describe the features and maybe link to your documentation
Here's an example of what we think is a great overview of an extension's functionality.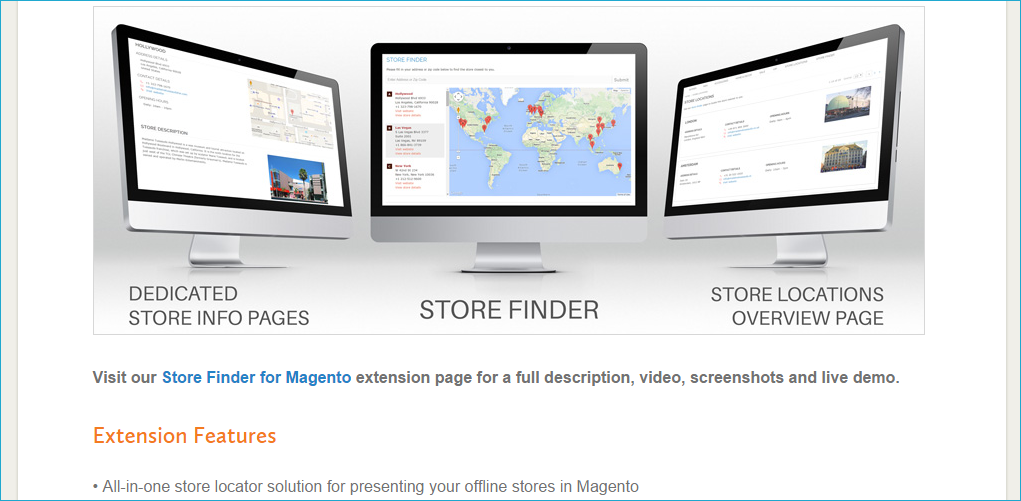 A lot of useful information

Detailed and structured description

Great and informative images
Speaking of images...
Mistake 2: Bad Images

Low quality resolution

Images don't convey the functionality
Images, presented at the product page for your extension also play an important role. Not all of your potential clients have the time and/or the resources to install/ review your demo version.
Images and screenshots provided by you at Magento Connect should be of high quality. Not to mention that they should expose your product's functionality and UI in the most favorable manner.
Take a look at some of the images from this page. This is the magnified version of a screenshot and it still doesn't provide any useful content. It might as well be a screenshot of another extension at this resolution.

Very easy to fix:

Don't compress or resize the images too much/ use an efficient compression method

Take screenshots of the most important functionality and settings
And now let's take a look at a pretty good example of image use on Magento Connect.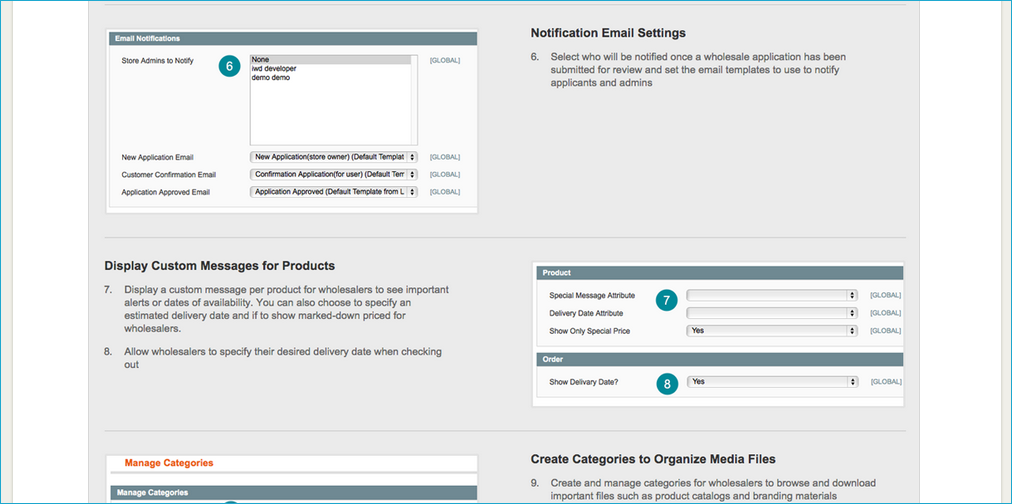 They used the description field to elaborate on the high quality screenshots attached to the extension page. IWD also didn't miss the opportunity to promote their other products with the help of images (check out the appealing icons at the bottom of the description/overview page).
Mistake 3: Bad Instructions or Documentation

Installation instructions are scarce

There's no documentation/ documentation is limited and not visual
For examples we're going to stick with previously showcased extensions from Magento Connect. The Product Inquiry extension has documentation hidden within the text. After opening the link in the browser you can see that the info is pretty limited, doesn't contain any illustrations and is formatted in manner that makes it hard to read. On the other hand, B2B Suite has all of the required documentation and demos.

Yes, these extensions are very different in terms of their functionality, but at the same time this shouldn't serve as an excuse for incomplete or limited documentation and instructions.
Would you add something to this list of Magento Connect mistakes? Share your thoughts and ideas in the comments below.