Blog
Our exclusive promo code MAGECLOUD: Get 20% OFF for 2 months of Cloudways Hosting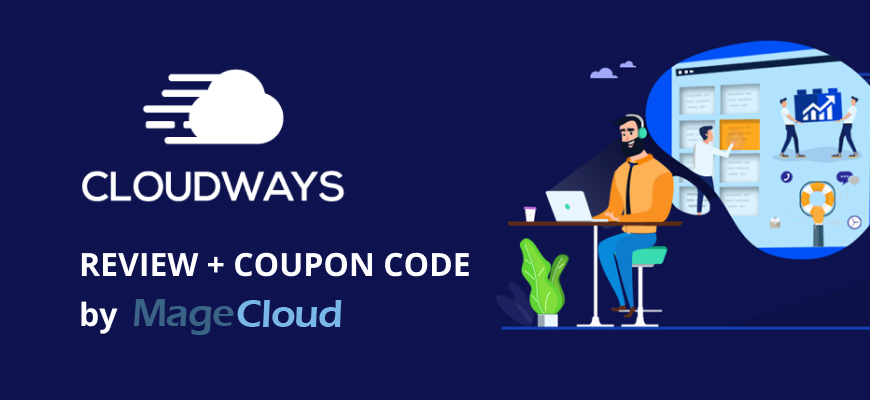 If you have decided to purchase the Cloudways services then you may want a discount. Now we will provide you our partner Cloudways coupon code. By using it you can purchase Cloudways hosting with a special discount - 20%.
You don't need to search for Digitalocean coupon code, Amazon AWS coupon code, or Google Cloud coupon code, you can just subscribe to Cloudways and use our Cloudways exclusive discount and enjoy High-Quality and Price-Friendly managed Cloud Hosting.

Cloudways Overview
World's No#1 Managed Cloud Hosting
If you are searching for a High-Quality and Price-Friendly managed Cloud Hosting service, then Cloudways is a great option in the online market.
Cloudways is a leader in providing managed cloud hosting at an affordable price. It is a PaaS (Platform as a Service) cloud platform.
Since launch in January 2011, they have been a master in providing quality cloud hosting solutions. It is one of the few best hosting companies which are providing affordable and managed Magento hosting for you. It promises its customers to provide super-fast response time and no more headaches in Magento.
The price levels are fully managed according to the needs of customers.
With our partner Cloudways promo code "MAGECLOUD" you can get these services with a 20% discount.
Cloudways has lots of features that make them one of the best cloud hosting providers in 2020.

Cloudways Features
Features: All Plans Come With the Same Features Which Are Mentioned Below:
Multiple Cloud Infrastructure - 5 Cloud Providers
Cloudways lets you choose your cloud infrastructure from a bunch of cloud hosting providers such as Amazon AWS, DigitalOcean, Google Cloud Platform, Vultr, and Linode.



In short, you can quickly deploy your managed servers in just a few clicks without even writing a single line of code.

Apart from that, our Cloudways promo code will help you get the best deal on any cloud server of your choice and you don't need to search for DigitalOcean coupon code, amazon AWS coupon code, or Google Cloud coupon code to save money.
Our partner Cloudways coupon (MAGECLOUD) will help you get the server of your choice at the best price.


All PHP supported apps

Your server on Cloudways is built for hosting PHP-based web apps. With Cloudways, you get 10+ one-click package installers, including Magento.
Plus, there is plain PHP too. That means you don't need to waste your precious time in installing the apps on your server.


Unlimited websites and applications
You can install unlimited applications by purchasing any service provided by Cloudways. With Cloudways you do not need to worry about the limits of websites and applications to install. You can host many websites on one server.
Other hosting providers who put limitations on the websites and applications to install on your server, Cloudways is far away from them. It knows, what customers want and what is best for them.


24/7/365 Expert Support

It doesn't matter how much you know about server and site management, some issues can only be handled by your hosting provider. You can ask for help or guidelines anytime. Cloudways support is 24/7/365 available over live chat and ticketing system.
In addition, if you like to do things your way, then Cloudways has a well-documented knowledge base to help you with anything.
Not only that, you can ask for help in the support forums or look for existing solutions.
With a premium support add-on, Cloudways will assign an in-house team for you, who always on Slack, or you can call them any time. High priority ticket responses in 10 minutes.


Fully Managed Security

Security is also the main thing for every person who is building an online business. You can trust Cloudways for keeping you all the information and data free from threats.
Dedicated Firewall. Cloudways servers are totally bulletproof! Their sophisticated firewalls protect all servers from any kind of malicious code or hacking attempt.

1-Click Free SSL Installation. A website needs to have an SSL certificate. Cloudways is providing a free Let's Encrypt SSL which improves your security and provides you all HTTPS requirements.

Two-factor authentication. Cloudways provides you a two-factor authentication on your account. It provides you a verification method while logging-in to your account.

Regular Security Patching, Firmware upgrades, and IP whitelisting are the main security features.
In bonus, if unfortunately, something happens to your website, Cloudways is providing you with a free backup facility. You can get your work back online in seconds.


Managed Backups

Staging Environment. You do not have to worry about your testing environment ever again. Thanks to Cloudways' built-in staging mechanism. All test environments are hosted on their pre-configured sub-domains. As a result, simply make your changes and bring the test site live when you are ready.

1-Click Cloning. Just use the cloning features of Cloudways platform to create duplicate copies of your web apps and servers. It's a handy feature if you want to create multiple sites with the same design. Or just giving something a try without breaking anything on your live site.


1-Click Backup & Restore. Backup is highly necessary to keep your online business safe. You never know what can happen. With Cloudways, you can set automated backups instances at an offsite location. The duration can be from hourly to weekly. Similarly, the restoration of the latest backups is also straightforward with 1-click from the console.
Our Cloudways coupon (MAGECLOUD) will be beneficial for anyone looking for this feature in the budget.


CloudwaysCDN
Unlike other CDN networks, CloudwaysCDN is the company's own Content Delivery Network and requires zero setup skills.
It's also super affordable too - it costs $1 / 25GB of bandwidth/app.


CloudwaysBot
Cloudways provides you a full monitoring fo your website. You can manage and monitor every single thing on your server. Cloudways has introduced a new assistant named "CloudwaysBot", which will throw notifications about everything in your server. CloudwaysBot sends real-time insights of performance to help you optimize the Servers, Apps, and integrates with Slack, emails, etc.
It will show you a list of real-time notifications and tips about your account, server, and latest server updates. You can activate and deactivate notifications just in a click for any recommended app. You have complete freedom to choose any channel to show notifications. Also, you will get real-time event alerts.


Free Migration
There are thousands of hosting providers out there. Many of them charge extra from customers to migrate their websites from other servers to their new one.
With Cloudways, you do not need to worry about the migration. If you could not perform the migration steps then just hit the contact button and get a manager to perform this task. Provide him/her with all the details about your previous hosting provider, and they will take care of it. It mostly takes 5 to 7 days for the migration process.


Multiple Datacenters
With 60+ major data centers around the globe, Cloudways ensures that you never have to worry about latency again.
Most noteworthy, Cloudways auto switches to the data center which is nearest to you or your site's visitor to serve your site. Therefore, it drastically improves the load times of your site.


Dedicated Environment
Every cloud server on Cloudways comes with dedicated resources: CPU, RAM, Storage, and IP. You can use your cloud server, and you have full control over creating your apps. In other words, it is entirely different from your traditional shared hosting servers, where multiple users are dependent on the same server resources like yours.


SSD Based Hosting
Cloudways Platform offers revolutionary SSD storage that supports blazing-fast read-write requests. In brief, this cuts your website load time in half and helps you get high SERP results.
Want to taste the power of pure SSD based fully managed cloud hosting in 2020? We have a special Cloudways deal for you. Get 20% OFF for 2 months with Cloudways coupon code "MAGECLOUD".


ThunderStack
Your websites are hosted on servers powered by the ThunderStack. This is a home-cooked caching recipe comprising of Varnish, Memcached, Apache, Nginx, PHP-FPM, and an optional Redis.
ThunderStack ensures that your websites load 100 times faster than other providers. In other words, you are getting a complete caching solution for your site without paying a single extra cent for it.


High-Speed Performance Assured
It is too much important for your website to load on time for a reader. Herewith Cloudways your website will load fast no matter how many visitors are visiting your website at once.
Unlike shared hosting servers, all servers launched on Cloudways get their own dedicated resources. Dedicated means that your resources will not be used by other websites.


Easy To Setup
The site setup process on Cloudways is totally hassle-free. Also, you don't need any special skills to get started with Cloudways. For the most part, the process is fully automatic. All you need to do is to select the proper configuration for your server and apps, and the rest will be done on auto-pilot mode.


No Coding Knowledge Required
Cloudways fully managed cloud hosting is entirely beginner-friendly. In summary, you don't need to touch a line of code to set up a site on their server.


Cloudways Cons
No Domain Name Registration. You could not purchase a domain from Cloudways (Paid and free both). You have to purchase and make it secure through a 3rd party. After purchasing the domain name from the third party, you have to change the name servers and assign them according to your server.

No c-Panel and Plesk. You will not be able to use c-Penal in Cloudways. Cloudways is providing its own Control Panel to manage your servers. It contains different managing options to manage your servers, all the options are arranged according to the needs of customers. It provides dedicated console available to manage your applications and servers.

No E-mail Hosting. Cloudways hosting plans do not come up with an Email feature. This may be a negative point for those people whose websites are huge and need email service (at the top). You have to pay extra to Cloudways for Email addon.If you want a reliable, fast cloud hosting with zero downtime then you can trust Cloudways. Their packages are great and fill up all the needs of every website. Yes, there are some limitations in it, but you have to manage yourself with it to use the services of Cloudways.

Disclosure Not Available for 1-Click Installation.

Managed Magento Cloud Hosting By Cloudways
The managed hosting recipe by Cloudways simplifies your entire experience so that you can focus on growing your business. Managed cloud hosting for Magento by Cloudways is undoubtedly the fastest Magento eCommerce hosting on the web.
Your Magento store is optimized with built-in caching technologies, including Cloudways Full Page Cache, along with CloudwaysCDN for the fastest speed.
Cloudways Pricing
Cloudways is really affordable, considering the features it offers. As mentioned above, it hosts your site on 5 cloud hosting providers that are:
DigitalOcean:
Starting from $10/month and ending at $80/month, with the RAM 1 GB to 8GB, Processor 1 Core to 4 Core, Bandwidth 1TB to 5TB, and Storage from 25GB to 160GB.
Linode:
Starting from $12/month and ending at $90/month, with the RAM 1 GB to 8GB, Processor 1 Core to 4 Core, Bandwidth 1TB to 5TB, and Storage from 25GB to 160GB.
Vultr:
Starting from $11/month and ending at $84/month, with the RAM 1 GB to 8GB, Processor 1 Core to 4 Core, Bandwidth 1TB to 4TB, and Storage from 25GB to 160GB.
Amazon Web Services (AWS):
Starting from $36.51/month and ending at $274.33/month, with the RAM 1.75GB to 16GB, vCPU 1 to 4, Bandwidth 2GB, and with Storage of 20GB.
Google Computing Engine (GCE):
Starting from $33.30/month and ending at $226.05/month, with the RAM 1.75GB to 15GB, vCPU 1 to 4, Bandwidth 2GB, and with Storage of 20GB.

Note That:
Cloudways charge $0.033/GB per server if you want off-site backup storage.
There no free trial for Amazon Web Services and Google Computing Engine (GCE). You have to purchase a launch to access the servers.
Cloudways all plans come up with suitable prices, no matter how large your business/website is, it works for everyone. Above all, Cloudways is a 'pay as you go' cloud hosting provider. That means you only pay for the resources you consume.
Which Cloud Hosting Provider should you choose on Cloudways?
Many things can influence your choice of cloud hosting provider on Cloudways, including:
Cost-Effectiveness
Performance
Reliability
Backups/Restores Speed
High Availability
Scaling Speed etc
The most popular, cheapest and widely used combination among developers, internet marketers, bloggers, and startups is Cloudways + DigitalOcean.
Don't Forget to Use: MAGECLOUD to 20% OFF for 2 MONTHS:
The prices and details of servers are listed above, you can use our partner Cloudways promo code to purchase any of these servers on discount.
HOW TO USE CLOUDWAYS PROMO CODE "MAGECLOUD"?
Visit Cloudways, then click Get Started Free button.
Under Sign-Up page, enter your email address and password, select your options from "I would best describe myself as" and "My monthly hosting spending is".
Click on Get o Promo Code then paste MAGECLOUD there, click START FREE button.
Verify your email and phone number.
Finally, enter your credit card information to redeem the promo code. Enjoy the free credit!
This coupon is only valid for new users.
Payment methods: PayPal and Credit Card accepted.
---
Cloudways FAQs
— Where is Cloudways based?
— Cloudways is based in Malta.
— Is Cloudways technical support available 24×7?
— Yes, their support engineers are available round the clock to help you. You can reach out to them through live chat and e-ticketing system at any time.
— Do I need to pay DigitalOcean, Amazon, Vultr, Linode, or Google Compute Engine as well if I join Cloudways?
— No. With Cloudways, you will be charged by Cloudways only and the pricing which you can see on our pricing page is inclusive of hosting cost. Thus, you don't have to pay anything to anyone else.
— Which Cloud Hosting Provider should I choose on Cloudways?
— The most popular and widely used combination among developers, internet marketers, bloggers, and startups is Cloudways with DigitalOcean.
— I don't have a Credit Card. How can I add funds through PayPal?
— Cloudways' preferred method is by using Credit Card, but you can make a Paypal request for adding funds in your account. Contact their 24×7 live chat.
— Who owns Cloudways?
— Cloudways is co-founded by Aaqib Gadit, Pere Hospital, and Uzair Gadit.

---
Final Words
We hope our short review and partner Cloudways promo code will help you with your choice of the best-managed cloud hosting provider at a discounted price.
Copy-paste promo code "MAGECLOUD" to Cloudways services and enjoy a 20% OFF discount for 2 months. Happy Hosting!
In conclusion, if you have any doubts or thoughts, then feel free to share them in the comments section below.