Blog
5 Tips to Personalize Magento 2 Store Experience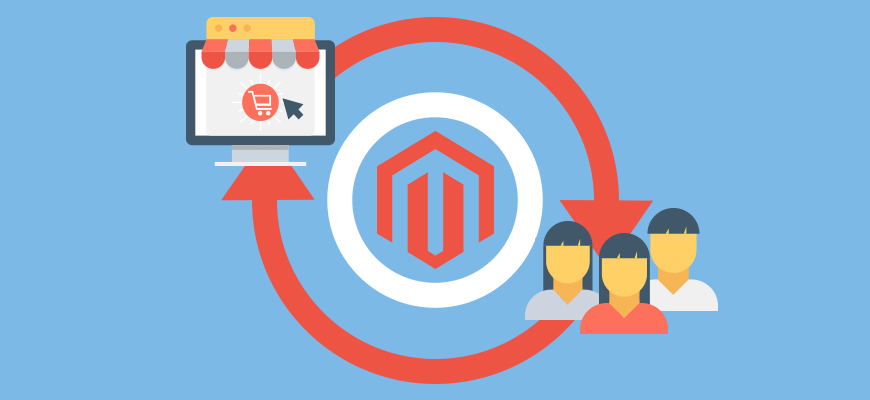 Magento is one of the leading software for building up a complete eCommerce website for showcasing products or services for customers to buy and consume. According to W3Techs, Magento proves to be the foundation of 1% of all the websites we see on the internet.
If talking about numbers, we can deduce that Magento is powering around 10million websites, being one percent of the 1.5billion websites in total. These statistics are about the actual usage of the platform and not speculated ones. Though many online stores fail in the initial users and do not make survive for long, we can say the active number of stores utilizing the Magento eCommerce application to be around 1/4 million.
The increased usage and popularity of this platform is attributed to its advanced features that are developed while keeping the needs of online retailers and webshop in mind. Despite all the available features, every merchant or website owner has got to change the default settings, layout, and appearance according to their business model and target users, which can easily be done with customization.

Magento, being an open-source application welcomes extensive customization options to help you mold the store experience in a way that is more subtle, simple, and appealing to the end users. Here, in this post, I am going to share some useful tips to help you personalize the user experience so that they can swiftly find and checkout for products without a hurdle.
1. Allow Order Pickup from Multiple Locations
With online stores, the merchants struggle a lot to deliver products in time and at affordable or no shipping charges. In pursuit of serving customers the best, most of the online stores create multiple outlets or display their products in different locations. However, still, the customers may have to pay the delivery charges and wait for a day.
To further eliminate such hurdles, you can allow them to pick their orders from one of your store locations nearest to their home or workplace. The extension named as Magento 2 in store pickup the finest solution in this regards as it helps a store owner in drawing multiple store locations on a guided map and assign products to them. So that a customer can navigate to the nearest outlet, find product availability, place the order, and schedule the pickup according to his or her own convenience.
2. Add 'Ask a Question' option to products
Usually, there is a 'Contact us' page on every online store, but the users rarely make use of it, just because the page link is given in the footer and maybe take more time to load. Ease your potential customers in asking a question by adding a custom button right on the product page. This encourages users to ask and clarify any ambiguity they have in mind about the price or a specific feature.
Additionally, you can go for placing product-specific FAQs on each landing page so that the users get their common queries resolved before outreaching efforts. Adding a live chat assistant powered by artificial intelligence is also an enticing option to make the users chat about their common problems.
3. Include Product Information in Visuals
For an online buyer, the landing page is the only source to know about a product. If the page lacks information, he or she may leave for the website that has portrayed most of the details. Improve the user experience with the brief and clear product description that is either in the form of text, images, infographics, or videos.
The Magento store gives you the freedom to display any form of content on the product pages. You can focus on visuals the more as an image is worth a thousand words. Among visual content, you should prefer videos the more, because 64% of internet users are prone to product purchases after watching a video. The FMEextensions plugin for product attachments in Magento 2 allows merchants to attach PDF and various other file types to product & CMS pages.
4. Ask and Display Customer Feedback
Asking your customers as how they find the product or the entire store is a favor to let them speak their heart out. They find it a privilege to record and spread out their shopping experience on the store. Have a mechanism to collect user feedback and dedicate a corner or space in the prominent place of your website to exhibit these testimonials. This may help the new visitors seek guidance and form purchase decisions, whereas the existing customers can proudly project their opinions on your Magento-powered online store.
In addition to text-based reviews and ratings, you can encourage customers to share their videos while unboxing their consignments. It will add value to the reviews and make them look genuine and more reliable.
5. Categorize Products by Manufacturers or Vendors too
The quality conscious customers of an online store are fearful of ordering products from a new vendor, supplier, brand, or manufacturer. They keep on shopping from the one they are most satisfied with, but finding products by a specific manufacturer is usually difficult in a catalog that is saturated in multiple parent and child categories.
To ease them with quick product search by a favorite brand, you can categorize products by brands. This facilitates the users to click on a favorite brand or vendor and get access to all the products they deal with.
Bonus Tip: Display Size and cut Charts
According to EY, 76% of online clothing buyers return their purchases because of the size, style, and fitting issues.
The small, medium and large sizes do not have a single definition. This varies with age, gender, body shape, and regions. The customers may order a product according to what they usually wear, but your store may have size charts with different measurement, that is where you face excessive purchase returns. Therefore, it is mandatory to display size and cut charts to help the consumers find the size that best fits in.


Final words
Personalization of an online store for better user and shopping experience has no definition. It may be similar to the tips discussed above in the post or may deviate in line with your business goals and user behavior. Read them to find how these can create an optimum store experience or how you can apply it differently to brew more benefits.


---
Author Bio: Muhammad Faheem is a prolific writer always busy in producing content around eCommerce platforms and technologies like Magento, PrestaShop, and WooCommerce. Currently, he is heading the content marketing team at FME Extensions, which is one of the leading companies in brewing eCommerce solutions for the business community around the globe.