Blog
Amazon VS Magento: Which Is Right for You? Or Both?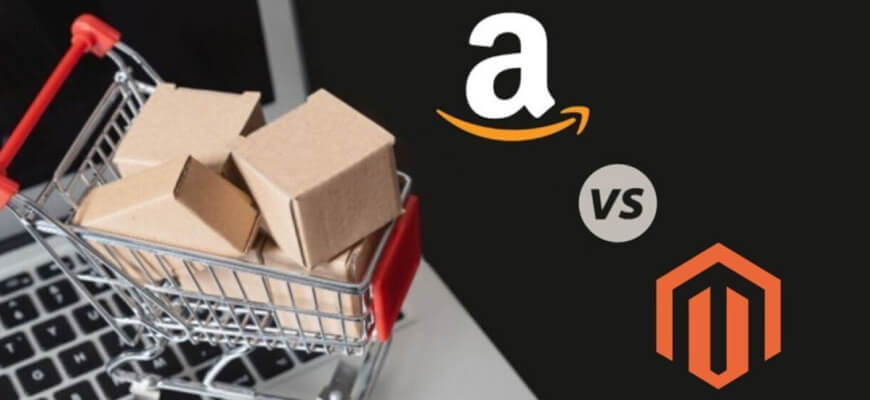 In 2021, sellers have tons of options when it comes to starting an eCommerce business or expanding your existing retail operation. But, with a plethora of online marketplaces and eCommerce platforms available, it can be a daunting task to figure out what will work best for your particular needs and settle on which solutions you should choose. Money, time, technical expertise, control, competition and branding are all major considerations that should be factored into which platforms or marketplaces you choose to sell on.

Since Amazon is the largest online retailer in the world, you've no doubt considered selling there. Listing your products on Amazon allows you to enjoy a ton of perks that make conducting your online business relatively easy, but Amazon sellers also have to contend with some major limitations. And for sellers who really want to take the reins of their online business by selling on their own website / store, a content management system like Adobe's fully open-source eCommerce platform, Magento, also has a lot to offer. So which should you choose — Amazon, Magento or perhaps even both? Let's jump right into it.


eCommerce Store Design
Depending on your business model, emphasizing your store's aesthetic and providing a unique customer experience through design choices that help you stand out from the competition may be a priority. In fact, Adobe found that "73% of businesses are investing in design to differentiate their brands."
If establishing your brand identity is important to you, you may find that Magento better suits your needs. Both Magento Open Source and Magento Commerce give you complete control over your store's user-interface and user-experience design. After being acquired by Adobe back in 2018, Magento has become a part of the Adobe Experience Cloud line of products that together creates a seamless experience across all channels.
As an Amazon seller, you can change elements such as product title, images, and item descriptions, but, you're entirely limited to the page design and layout that Amazon provides. If you're already a multi-channel seller and simply looking to expand your operations, this may not be a big issue. Plus, it entirely eliminates the burden of focusing on site design. But if you're a business owner looking to position your company for growth and brand recognition in a highly competitive market, Magento is likely the way to go.
Magento Open Source is entirely free and gives you virtually unlimited potential with regard to store design, but you'll find that you cannot get very far without an adept knowledge of PHP and front-end web development. Magento Commerce, on the other hand, offers a simple "drag and drop" page builder that enables you to build custom page designs without any coding skills. However, Magento Commerce can be extremely costly and therefore isn't always the most feasible option for small businesses.
MageCloud remedies this issue by providing all Magento users with simple and free Magento site creation. Choose from over 100+ professionally designed themes and create an online store in under five minutes that's aesthetically aligned with your company's brand identity, without ever having to worry about coding or design.


Sales & Competition
While you have less control over store design, Amazon brings one major benefit to all eCommerce sellers — sales, and lots of them. By selling on Amazon, your listings gain visibility among some of the 197 million people who visit Amazon each month! Becoming an Amazon seller gives you instant access to a huge audience and allows you to sell your products on the most popular and accessible eCommerce shopping platform in the world.
The downside here is that, as an Amazon seller, you must contend with a massive amount of competition. When a buyer clicks on your product, every merchant selling the same product appears below the Amazon Buy Box. You'll also be competing to rank higher in Amazon's search results, so that your item shows up before competitors. This is entirely based on Amazon's formula that takes into account multiple factors, including buyer feedback, customer service, competitive pricing and whether or not you're an FBA (fulfilled by Amazon) seller.
With a Magento site, on the other hand, you are entirely in control of the way in which your products appear and what information is presented along with them. While you obviously will still have competition, competitor listings won't be in the same eCommerce ecosystem as your products. Of course, this also means that the burden falls more heavily on your shoulders to gain website traffic through branding and SEO best practices.


Control Over Your Store & Policies
Whether you're an FBA (Fulfilled by Amazon) or FBM (Fulfilled by Merchant) seller, Amazon's policies will largely dictate how you handle shipping and returns. For example, over the holidays, Amazon extended their return window — orders shipped between October 1st and December 31st would be eligible for returns up until January 31st. Much to the dismay of many Amazon sellers, customers could, in theory, use a product for four months and then simply select a reason for return and expect a full refund. Amazon's general return and shipping policies must also be matched by individual sellers as well. Failure to comply with Amazon's policies could put your account at risk of being suspended.
With a Magento store, no one will tell you how to run your business. Sure, you'll be entirely responsible for order fulfillment and shipping, but you're free to abide by whatever policies you see fit. Magento Commerce also gives you promotional pricing tools like reward points and merchandising tactics to strategically tailor your product offerings for your audience.


Flexibility & Integrations
Whether you're selling on Magento, Amazon or both, setting yourself up for success in the highly competitive eCommerce game is no small task. Expanding your eCommerce operations to multiple markets, maximizing visibility, increasing sales and enhancing customer satisfaction are all major components of a plan to grow your online business. Each one of these goals necessitates the implementation of different software solutions, from EOPs (Enterprise Resource Planning) and POS (Points of Sale) to CRM (Customer Relationship Management).
Luckily, Magento being a fully open-source, platform-as-a-service eCommerce solution can accommodate your needs with the ability to integrate with basically any third party software, as long as there are APIs in place. This also means that you can even sell on Amazon, eBay, Etsy, and Walmart, and have your marketplace data sync directly with Magento.


Conclusion
We hope this helps give you a clearer picture of the benefits and drawbacks of Amazon and Magento. In an age where multichannel selling is quickly becoming the norm for eCommerce sellers, no one platform may be completely perfect for meeting all your needs. But, by leveraging the power of an open-source eCommerce solution, you can integrate order data across various marketplaces and channels, while using the tools you need to make informed, data-driven decisions to successfully grow your business.
---
Author Bio: Replyco is a helpdesk software designed to help eCommerce sellers manage customer messages in one easy-to-use inbox. It integrates with multiple marketplaces and platforms and includes tools to automate messaging, improve response times, provide live chat support and much more. Plus, it includes unlimited users and integrations for every plan level.
Get started with your 7-day free trial today.