Blog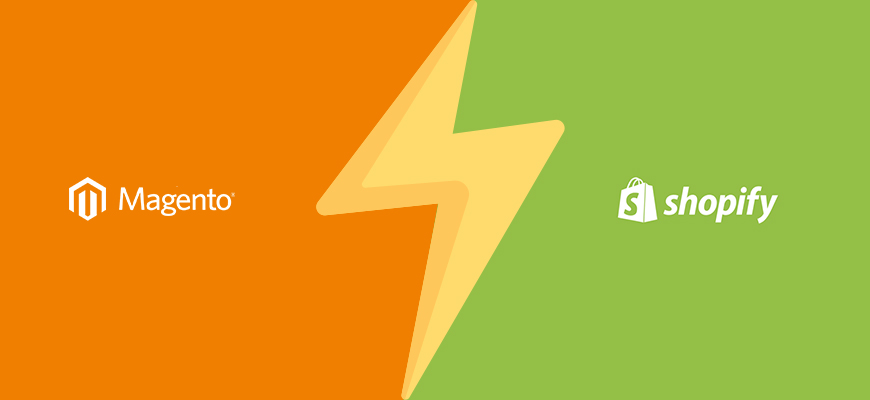 Guest post by Codilar
Selecting the right eCommerce platform to take your business to the online world plays a substantial role in the success of a business. Leading the business as per estimated plan and strategy is only possible if the right e-commerce platform that has essential and advanced features is chosen. Only the right platform can deliver estimated growth and beyond.
This article will provide details about major differences between Magento and Shopify. Check this post to find out a detailed comparison between the most prominent eCommerce platforms.
A platform that delivers a magnificent experience
Customers no longer buy only products, they buy experiences. The platform chosen should allow you to use your strategy and creative ideas to the fullest, not restrict them.


Magento
❖ This open source platform is highly flexible and has tools which can deliver impressive experiences that you want your customers to have.
❖ A massive number of extensions – over 3,600, can be used for your business. Extensions for almost all kinds of functionalities are available.
❖ An excellent network of developers and partners offer resources that can provide more innovative solutions for your business.



Shopify
❖ Only a standard list of templates can be used in Shopify which results in limiting experiences for customers. Also, your online site might also resemble with other Shopify sites. In addition to that, some of the experiences such as checkout cannot be customized.
❖ Shopify network of developers and partners is small, and therefore limited third-party solutions are available.
Future-ready capabilities
eCommerce industry is highly competitive and keeps evolving. The platform should be able to support the expansion of your business, now and in the future.



Magento
❖ This remarkably customizable platform can support limitless modifications, and the number of functions you can add in the future. Complete control over the Magento platform is possible.
❖ As mentioned before, Magento Marketplace is filled with more than 3,600 extensions that can provide almost any e-commerce solution.
❖ It can also integrate with various kinds of third-party solutions which can allow businesses to incorporate the solutions developed in the future.
❖ Magento suits best for B2B, and B2C businesses and its functionality can be expanded without adding a new platform.


Shopify
❖ Business owners who start with Shopify basic plan, exceed its limitations if their business runs successfully. They have no way other than to upgrade to an expensive Shopify Plus plan.
❖ Some of the essential features of large enterprises such as order management, subsite functionality and complex product catalogs are not included. This platform is suitable for B2C and not B2B. Hence very less large enterprises use Shopify.
Performance of the platform
The platform should be powerful, and at the same time, it should be scalable and reliable. It should deliver best-in-class experiences round the clock.



Magento
❖ Magento Commerce runs on Amazon Web Services (AWS). The global cloud infrastructure makes sure that the uptime is at 99.99% irrespective of the location of customers.
❖ Absolute control of Magento environments is possible as optimizations and integrations can be tailored for the particular needs and goals of individual stores.
❖ Tools offered by Magento are capable of providing more agility and saving time.
❖ More than 315,000 sites around the world are powered by Magento. Almost 70 of the Internet Retailer Top B2C e-commerce 500 list and 40 of the Internet Retailer B2B e-commerce 300 list are powered by Magento.



Shopify
❖ The multi-tenant technical architecture of Shopify can lower the performance of other merchants' stores if there is a peak demand on one merchant's store.
❖ The performance of the site can go down during heavy traffic situations as the platform throttles the data transferred between the core app and add-ons.
❖ The technology stack of the platform cannot be accessed by merchants. This results in no way to monitor and customize site performance.
❖ Only around 10 of the Internet Retailer Top 500 companies are powered by Shopify.
Right assistance when you need it
Different types of merchants require different types of assistance. Help might be required in integrating extensions, maintaining performance and enhancing customer experiences.



Magento
❖ Merchants can benefit from the huge number of solution partners spread across the globe. Most of them have expertise in offering solutions for various verticals. Solutions for all sort of problems are available.
❖ A massive number of 260,000 developers are present worldwide, and so you can find resources of different types to help your business.



Shopify
❖ Shopify has a small partner community, and most of them are present in North America. Also, they have less experience in providing solutions and offering commerce experiences.
The platform uses a proprietary Liquid language which is known to a limited number of developers.

---
It's difficult to say which eCommerce platform is best for every single online store. What works best will depend on goals, budget, and expertise. When deciding between Shopify and Magento, consider what is most important to you.