Blog
Magento New Enhancements. Magento 2.3.4 version. [Jan 2020]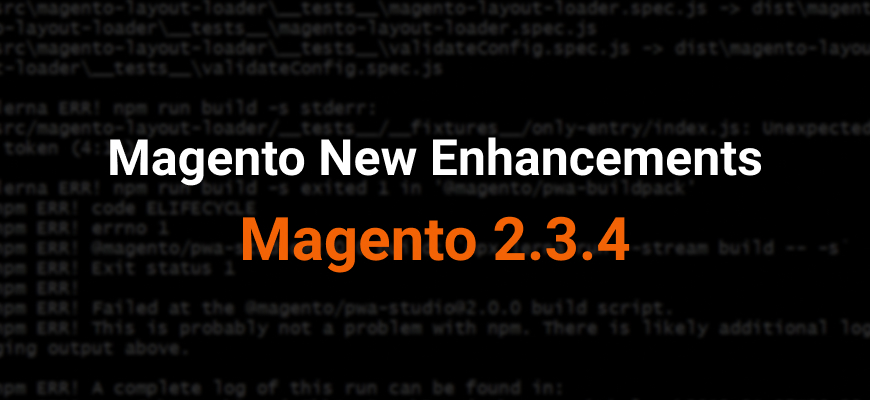 On January 28, 2020, Magento released new versions of Magento Commerce and Magento Open Source to increase product security, performance, and functionality.
Are you ready to install the latest Magento 2.3.4 version released?

What's fixed in Magento 2.3.4?
The much-awaited new Magento version release notes are the result of more than 275 contributions made by the Magento community members with reputed agencies and selected experienced developers among them. These release notes comprise a colossal number of substantial security enhancements, significant platform upgrades, performance improvements, and other important changes.
Although it is not a new major release, as per the official report of Magento 2.3.4, the new version offers over 220 functional fixes to the core product and 30+ compelling security enhancements.
If you are also working for Magento development, you must grasp all these features and know how Magento 2.3.4 will be beneficial to you.
Having fixed hundreds of issues in the Magento 2.3.4 core code and it focuses mainly on shopping carts & payments, categories, payment methods, user interfaces, other general bug fixes, clean code, and performance improvement.
Magento has also done clean-up in the core code to avail performance improvement to the GraphQL and inventory management.
So, let's dive into what new features and performance improvements are available in Magento 2.3.4.


Hundreds of Bug Fixes
This release fixes hundreds of known issues within Magento that merchants and agencies have reported.
This includes fixes for:
Infrastructure and code cleanup.
Installation, upgrade, and deployment.
User interface.
Analytics and reporting.
Cart and checkout.
Catalogs and orders.
Product bundling.
B2B features and functionality.
Customer management and reviews.
Payments.
Search.
Shipping and tax.


Check Magento Developer Documentation to find all the detailed updates shared between Magento 2.3.4 Commerce and Magento 2.3.4 Open Source.
How to download and install Magento 2.3.4?
To see the full release notes - click here.
NOTE: Magento 2.3.4 requires at least PHP 7.2 version. If you have a lower version of PHP and want to install PHP 7.2 on parallel so that you can run Magento 2.3.4, we would recommend looking through the article.


---
Other Releases:
Magento Open Source 1.9.4.4
This version provides a resolution of multiple critical security issues and functional fixes. These security enhancements help close cross-site scripting, arbitrary code execution, and sensitive data disclosure vulnerabilities as well as other security issues.

But, you should remember that in June 2020, the Magento 1.x eCommerce platform will reach its End of Life (EOL). Thought, if, under circumstances, it is no possible to migrate to Magento 2 and you prefer to stay on Magento 1.9 - you can do it with Nexcess' Safe Harbor.

Still, we highly recommend upgrading your Magento store to this latest Magento version 1.9.4.4, which includes all the security patches including SUPEE 11295.
If you need any help regarding Magento version upgrade - you can get the best Magento development services from MageCloud agency, a pioneer in delivering comprehensive Magento solutions.



SUPEE-11295 is a small security patch released on January 28, 2020, along with Magento 1.9.4.4 version. The patch should not cause any issues due to the scope of changes: minor code correction in 3 files and no index tag in 3 templates.

The patch can be downloaded from the Tech Resources page. Or we can help you to install Magento SUPEE 11295 professionally. Moreover, we in MageCloud, provide Magento security check services for your Magento stores. For us, this is crucial to ensuring that your store is fully protected from hackers and attacks that can compromise important information about your business and your customers.



---
Final Discussion
These were some of the major improvements in the problems acknowledged by Magento. These notable improvements are available for the users with the latest version upgrade.
If you are working with Magento, then this update is very beneficial to you. If you're in need of an experienced Magento agency for patches or version upgrades on the platform, get in touch.
We hope the above-given update information will educate you in a better way. You can also share this update news with friends and colleagues to get a broader perspective on this brand-new update.