Blog
The Importance of User Experience in Ecommerce Success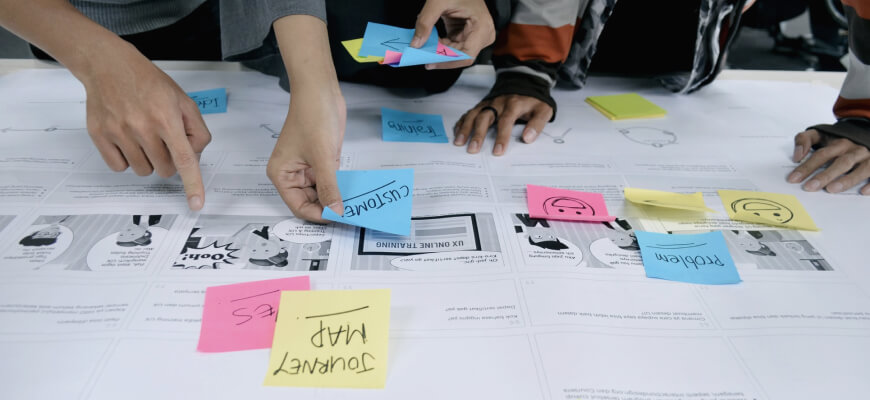 User experience is quite important as it defines the overall user experience with the product and the eCommerce website. If you have ever ordered a product from an online store, you may be familiar with the entire process. It often starts with a search query that may lead to a few websites.
Upon visiting various websites, you may try using them and close as soon as you find the right website with the products you searched for. The buyer's journey further transcends with the navigation of the website.
For example, a customer may want to view product documentation, features list, reviews, demos, practical users, or they may want to ask a question that is not answered in the FAQ section. For them to quickly interact with the sales and support team, or any other action without hurdles, a UX design is drafted.
A UX design varies from store to store as there is not a defined rule for making it. Every business has its unique selling point that's why they have to design different features, options, and navigation accordingly. It is highly important for the success of an eCommerce website.

The following are some of the reasons that approve the importance of UX design; however, you can review these 25 eCommerce sites of the Middle Ease and UAE that were loved by shoppers for their design excellence.


Exponential market reach
With an obsolete or inoperative design may confine your business growth as a few loyal customers may keep on visiting your website, while others may stay at an arm's length. However, a well-crafted design ensures eCommerce success by grabbing a larger market reach and share.
Firstly, it creates a magnetic pull that makes the users stick to the design and stay for longer. Secondly, it is mobile-friendly, which ensures a stable and pixel-perfect view of your products and landing pages on varying mobile devices of the users.
The number of mobile users is increasing at an exponential rate, and only a UX design can enable your store to fetch a large chunk of such users. Mobile users like to browse and navigate your store similarly as they would like to do it on a personal computer. They will never compromise on a poor display just because they have a different phone or mobile gadget to use the internet.


Attaining credibility
The success of an eCommerce depends on its credibility. It tends to generate revenues as soon as the users start believing in it. The store and its product must inculcate trust among the target audiences.
For any eCommerce website, it takes time to build a credible name as the users continue shopping and return for more orders. However, making the users believe the store is true and fair; the design plays a vital role.
For example, if users are finding it difficult to navigate through different pages and the pages are loading with delays, the first thing that may come to their minds is that the website is not a reliable one. The users may start trusting your website and the products if they sense security, which can be delivered in a UX-focused design.



Usability
Removing barriers from user interaction makes the website more usable and friendly. Usability is the core issue when designing a website for the ease of users. It simplifies the process of using different products, categories, and other content sections so that the audiences can find what they need the most.
For example, a multiregional store may host numerous stores with products and categories classified for a country or continent. For a user to find a product suitable and available to their region becomes an arduous job.
A UX design considers such hurdles with the creation of various tools, features, and options. For example, you can facilitate users of a multiregional store with automatic and manual store switching. Allowing them to move between the stores and shopping from the one with local currency and language is a marvelous experience one can ever offer.


Exemplary user engagement
Users are attracted to the indifferent layout, captivating images, compelling videos, and persuasive sales copy. The UX design provides you multiple channels to produce engaging content so that the users take interest in reading, viewing, and watching it, and staying more on the website.
The colors you use in the design also reflect a lot about your online venture. Every color has a meaning and a preconceived notion. It depends on the nature of your business and the traditional values of your target audiences as to how they are going to inspire from the design colors.
Using color psychology concerning preferences between user age, gender and profession also result in higher user interaction.


Making loyal customers
The credibility of an online store also helps to make the customers loyal and return for purchases in the future. However, UX design has a direct impact as well on achieving customers' loyalty. The eCommerce ventures that keep on changing the design for better user experience tends to surprise and fascinate users with useful features.
With the design, the store owner can build a strong relationship by understanding the problems they face in using the website and addressing them with viable design solutions. This makes the users return to your site again and referring friends and family to experience the exemplary website too. It increases user retention and referrals as well.
The purchase journey of a buyer spreads across multiple steps and they may be facing issues at various places. Understanding their problems as your own is the essence of user experience design, which is the reason they stay loyal and sincere to your business.


Final thoughts
The user experience design is much significant to the eCommerce success that it considered a foundation stone now. Various factors and design features are considered right from the beginning of designing a website. The eCommerce sellers and managers must pay close attention to detail when defining the user experience features to save their time and money in recognizing the issues later.


---
Author Bio:
Usman Ali is a Digital Marketer with good experience in Search Engine Optimization and Social Media Optimization. He is currently working as an SEO Executive in FME Dubai– a leading web design company in Dubai. He is passionate about Digital Marketing and loves to write on various topics and express his thoughts in the form of write-ups. You can find him on LinkedIn.